Please Sir, can I have some moor????
THV Patricia has been enjoying the sunshine off Yorkshire whilst undertaking vital inspections of the aids to navigation at Hornsea 2. Installation is in full swing at this site with DEME Offshore erecting the first of the 165 Siemens Gamesa turbines with the project scheduled to be fully operational in the second quarter of 2022.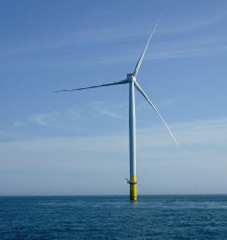 Photo: Orsted
The annual maintenance of the demarcation buoys ensures that mariners are aware of where navigable water and keeps everybody safe. Trinity House also provide mooring buoys for this project. Each buoy is comprised of one module of roto-moulded linear polyethylene and filled with polyurethane foam. This moulding method provides good strength to weight ratio. THV Patricia found that one of the self-contained lanterns to be unlit and quickly replaced to restore the 1-2NM range and give the wind farm vessels somewhere to moor whilst offshore. The use of mooring buoys ensures that vessels do not have to release anchors to the seabed and damage the fragile marine ecosystem.