Regional Grants support
A few highlights from our Regional Grants Committees
Trinity House has six Regional Grants Committees to support regionally-based projects that meet with Trinity House's charitable objectives.


Here is a snapshot of the support we have provided recently.


---
Ocean Youth Trust South
South East
Ocean Youth Trust South was awarded a grant towards employing a Staff Cadet, a new post designed to offer paid work to a young person from a disadvantaged background who has the potential to excel in a sail training career but who does not yet have the skills and experience required for other jobs in the industry (mostly requiring qualified skippers and mates), and who would not be able to gain the required qualifications without support.
The grant enabled the charity to appoint a young person who had been unable to cope in mainstream school due to issues with mental health and anxiety, and attended a Pupil Referral Unit instead. This unit arranged Georgia's first sailing trip with OYT South, where she excelled and was invited back for additional training. Before being offered the Cadet post she had become a committed and enthusiastic volunteer with OYT South, and her confidence had increased beyond all recognition.
In her first season as Staff Cadet, Georgia completed RYA Day Skipper theory and practical qualifications as well as RYA Powerboat Level 2 and her GMDSS radio licence, passing an OYT South third mate assessment in May and being upgraded to second mate in September. She also a completed a winter refit on board the charity's 105-foot vessel Prolific and has developed an impressive array of practical skills. In her second full-time season Georgia should be building on her experience and gaining additional qualifications to the point where she is ready to move on to paid work as a first mate in sail training or skippering smaller vessels.
OYT South is enormously grateful for the Trinity House Regional Grant which helped to make the appointment possible. It has not only changed one young person's life beyond all recognition: it has also given Georgia the chance of a career in which she can inspire hundreds of other young people: there is a lot of focus on youth mental health at the moment and OYT South's Staff Cadet is a fantastic example of someone who has faced her own difficulties but is doing really well in her chosen career.
http://www.oytsouth.org/charity.asp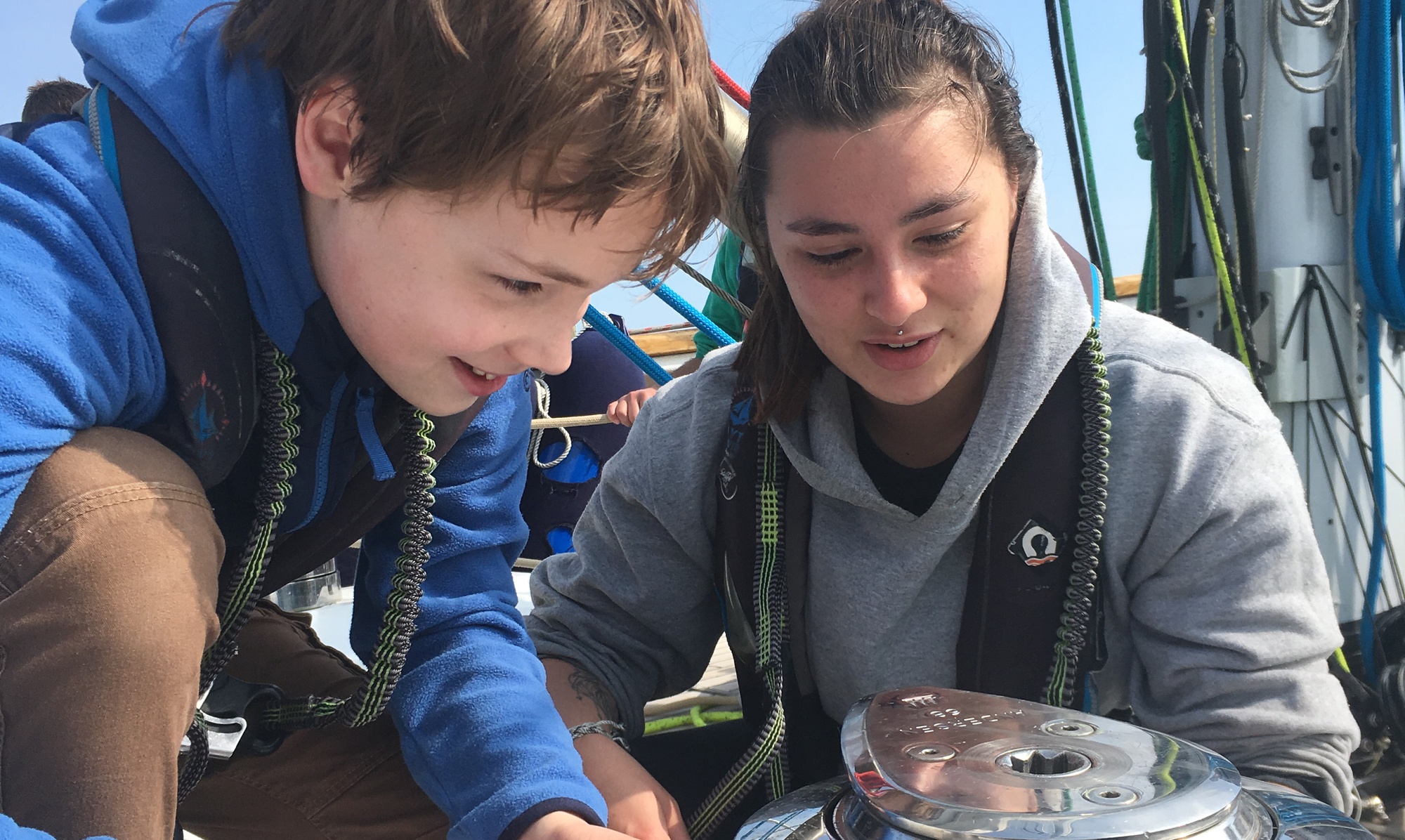 ---

Adventures Offshore
East
In Essex, Adventures Offshore were awarded a grant towards their 2019 Young Sea Staff training scheme. Eight young people who excelled on their 2018 summer voyage are selected to train to RYA Watch Leader standard and are given experience of several days continuous sea time, alongside the daily watchkeeping routine, which provides total familiarity with Adventures Offshore's Oyster 49's. This experience includes safe handling of all equipment as well as carrying out all routine maintenance tasks onboard. This equips the young people with the knowledge and confidence to take responsibility for a watch and, with the addition of an MCA Seafarer medical, will see them return in the following sailing season as adult volunteer trainee or second mates with Adventures Offshore. Having young people in positions of responsibility will inspire other young crew to enjoy sailing offshore and hopefully to return and progress through the RYA training scheme.
As a result of taking part in this scheme, two Young Sea Staff are now starting Trinity House Cadetships in Fleetwood and Glasgow in September 2020, one is hoping to pursue a career in sail training and is undertaking his RYA Yachtmaster alongside a degree in outdoor education and a fourth is hoping to commence a cadetship at Warsash in 2021 following a gap year.
http://adventuresoffshore.co.uk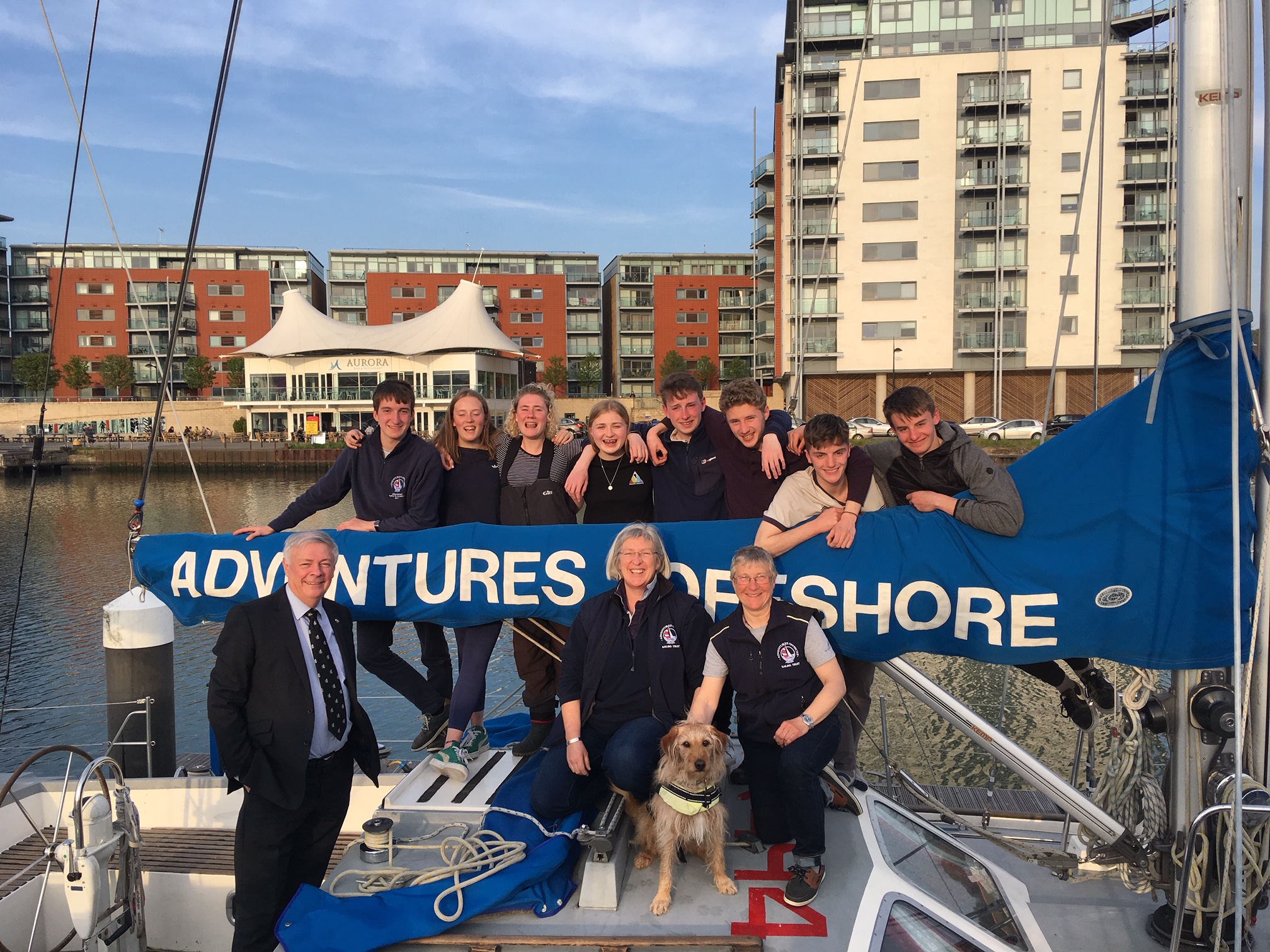 ---


CYE Sailing Centre
South east
CYE Sailing Centre is a multi-activity residential centre in Chichester Harbour, providing water sports and adventure activities, for over 2,000 children and young people and around 800 adults each year.
A crucial element in our successful delivery of this programme is our continual development programme for 10 trainees each year, mostly gap-year students aged 18-25. Over the winter they are trained to instruct and lead activities, from basic skill through RYA qualifications. Over the summer season, the trainees put their skills into practice and grow from assisting at to leading outdoor activity sessions. Throughout the season they are given opportunities to lead-grow-develop. They are debriefed by a senior activity leader after every session, and have regular overall personal progress reviews.
We are extremely grateful to have received a Trinity House Regional Grant towards our trainee development programme. Lucy, one of the Centre's Assistant Lead Instructors said "Over the past 2 years I have become a senior instructor in sailing, and a level 2 coach in paddling. These 2 qualifications enable me to take groups of all ages onto the water, teach them how to sail, kayak or canoe for the first time, or enable them to develop their skills and gain qualifications in both disciplines. Personally, gaining these qualifications has taught me so much. Understanding the difference between teaching on a subject and then building a relationship with someone to help coach them best to their individual needs carries so many versatile skills. I have mainly noticed growth in my communication and people skills. For example, using empathy and observation to understand how an individual takes in information and learns is a big part of being a coach. Then using this knowledge to better communicate to someone really helps them achieve, and enabling others to achieve is something I grow more and more passionate about. Developing these new skills in myself every day and finding new areas of coaching I love is having a big impact on how I am shaping my future.
"I have recently taken up a new role, I am now a manager to the trainees who are here for their gap year at CYE. I strongly believe that the skills grown in me through my previous qualifications have equipped me well for this role. I am still learning but the ability to communicate well and use empathy to help develop people has been an amazing base to learn from, both on and off the water."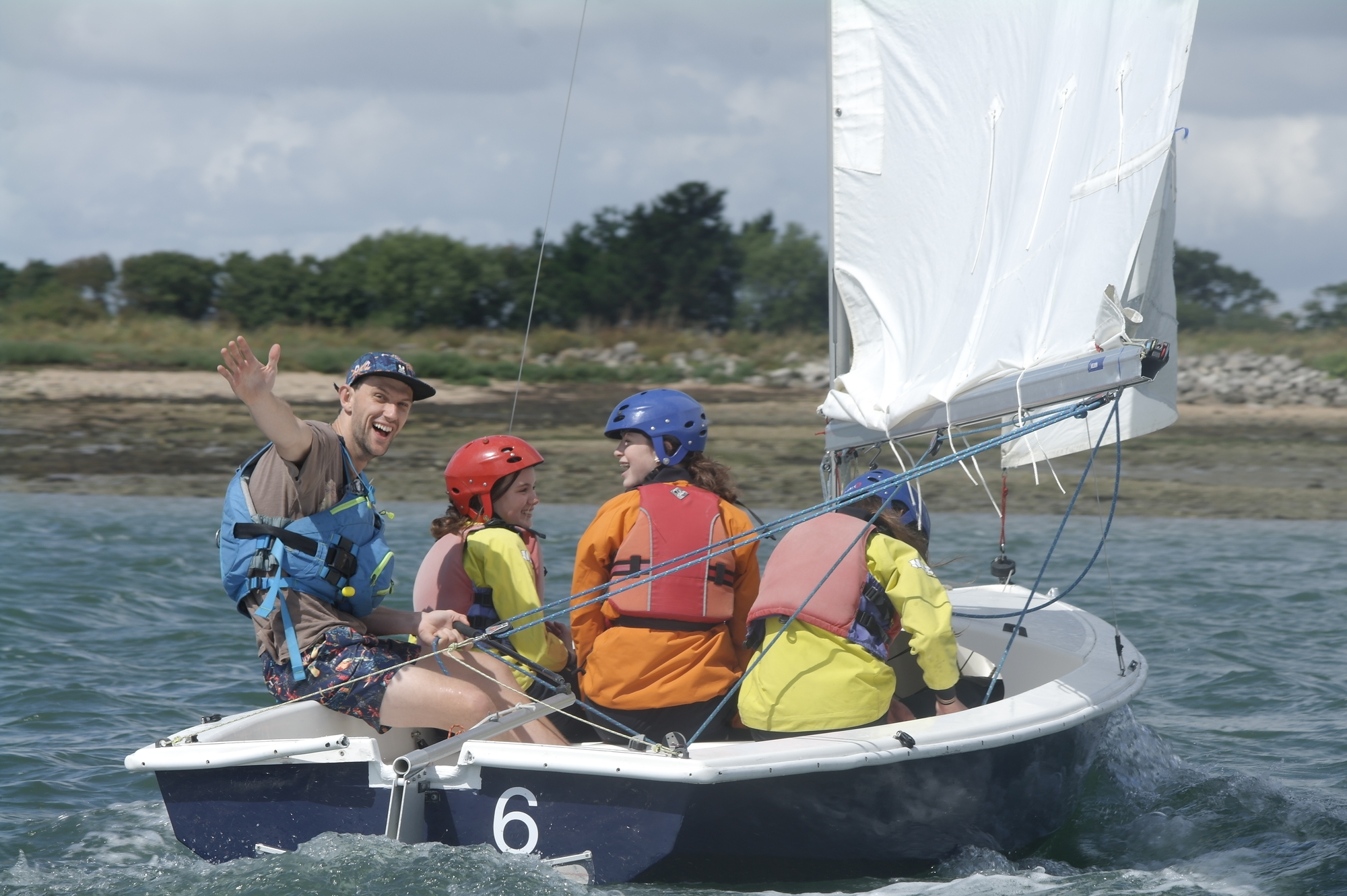 ---

Roseland Youth Sailing Trust
South west
"We are indebted to Trinity House for their financial support which has helped us to deliver free sailing lessons to 18 schools in Cornwall this year, including children from some of the most deprived neighbourhoods in the country. Learning to sail gives young people the gift of confidence, self-esteem and skills of value in whichever career they choose. Together we are creating opportunities, changing lives and transforming communities."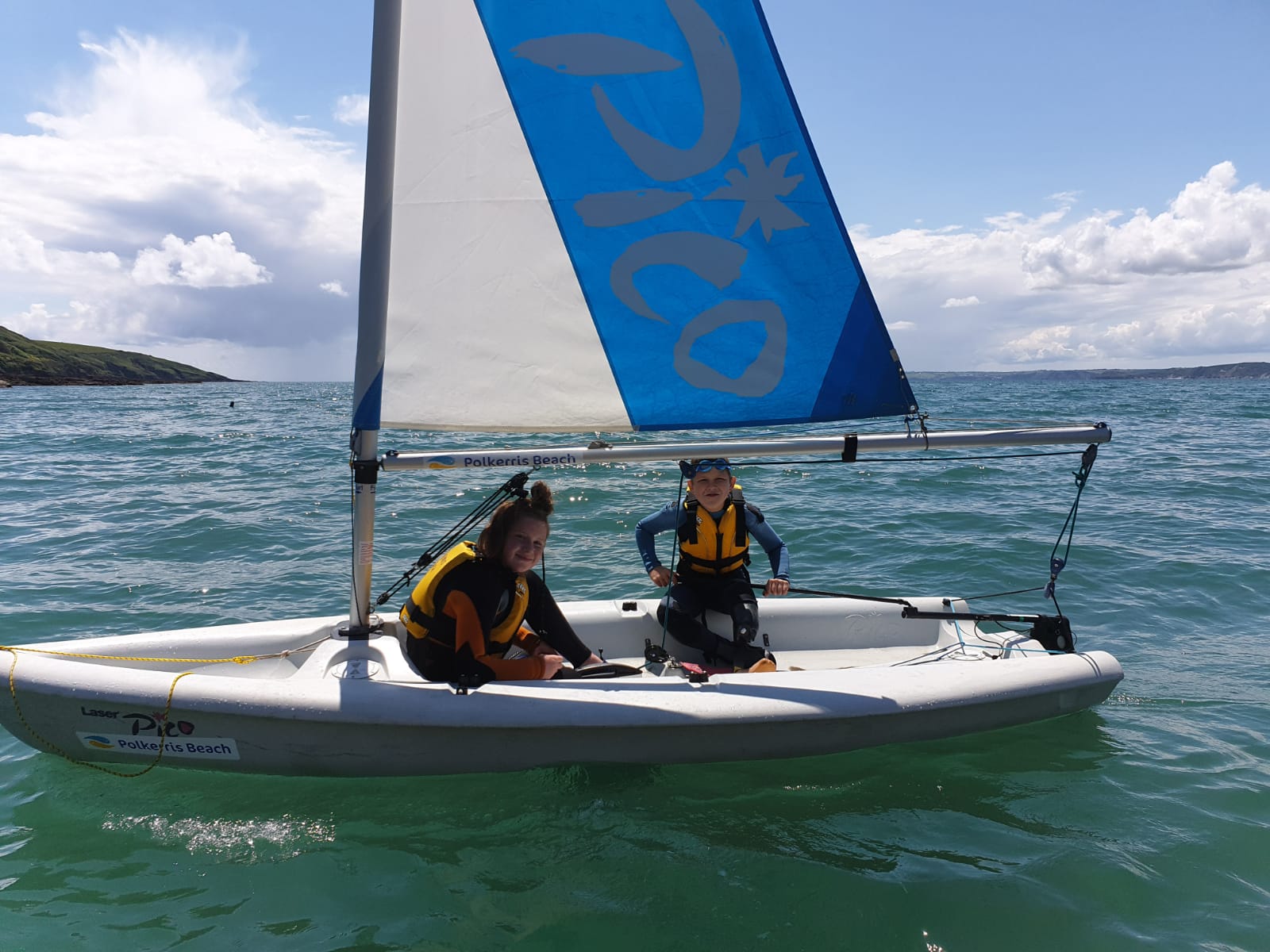 ---

Maritime Volunteer Service
South east
The grant from Trinity House enabled us to refurbish and re-engine an ex-HMC&E RIB to carry out the patrols on the River Arun and in the process has also supported our wider training objectives in the Littlehampton area.
The month of August was used as a pilot to test how this would work, with patrols being mounted every weekday for four weeks, except on one day due to bad weather. The MVS's national training vessel East Sussex 1 (normally based at Eastbourne) was berthed in Littlehampton for the month and provided accommodation for members coming from outside the area. She was also used to provide short sea experience trips for Sea Cadets and Air Cadets. Starting this project with the harbour authority has also facilitated the establishment of a local Littlehampton MVS Unit.
Littlehampton Harbour Master Billy Johnson commented:
"It has been highly beneficial having the Maritime Volunteer Service's patrol RIB East Sussex 2 on the Arun over the last four weeks. Their patrol presence over high water during the week, something we struggle to maintain, has had a very positive effect on safety in the harbour during August. Their presence has deterred speeding and excessive wash, they played a key role in the rescue of a capsized jet ski, and assisted in the recovery of a stranded vessel at our harbour entrance. Furthermore, they have educated members of the public on the dangers of jumping into the harbour from the quaysides, and have had countless other positive interactions with vessel crews and members of the public, offering safety advice and a friendly face. We look forward to working alongside them for the years to come as a permanent Littlehampton MVS Unit becomes established.
"We will soon be having detailed discussions on how these patrols will work next year but all parties are agreed that they should continue. The RIB will be used, albeit less frequently, for patrols and training during the winter months. That we have been able to do this is down to the grant we received from Trinity House and for which we are very grateful."





---

Sir Thomas Lipton Foundation
Scotland and Northern Ireland
"We are committed to delivering a unique maritime programme called Buoyed Up for disadvantaged pre-teen children growing up in deprived areas of the UK.
Our 2019 grant from the Trinity House Regional Committee translates into inspiring, confidence-building and motivating learning experiences for whole classes of 10-12s on and off the water in Northern Ireland.
Thanks to Trinity House, and working with our partners at Belfast Harbour and Ballyholme Yacht Club, we are able to make Buoyed Up a vital first navigation towards attainment and achievement."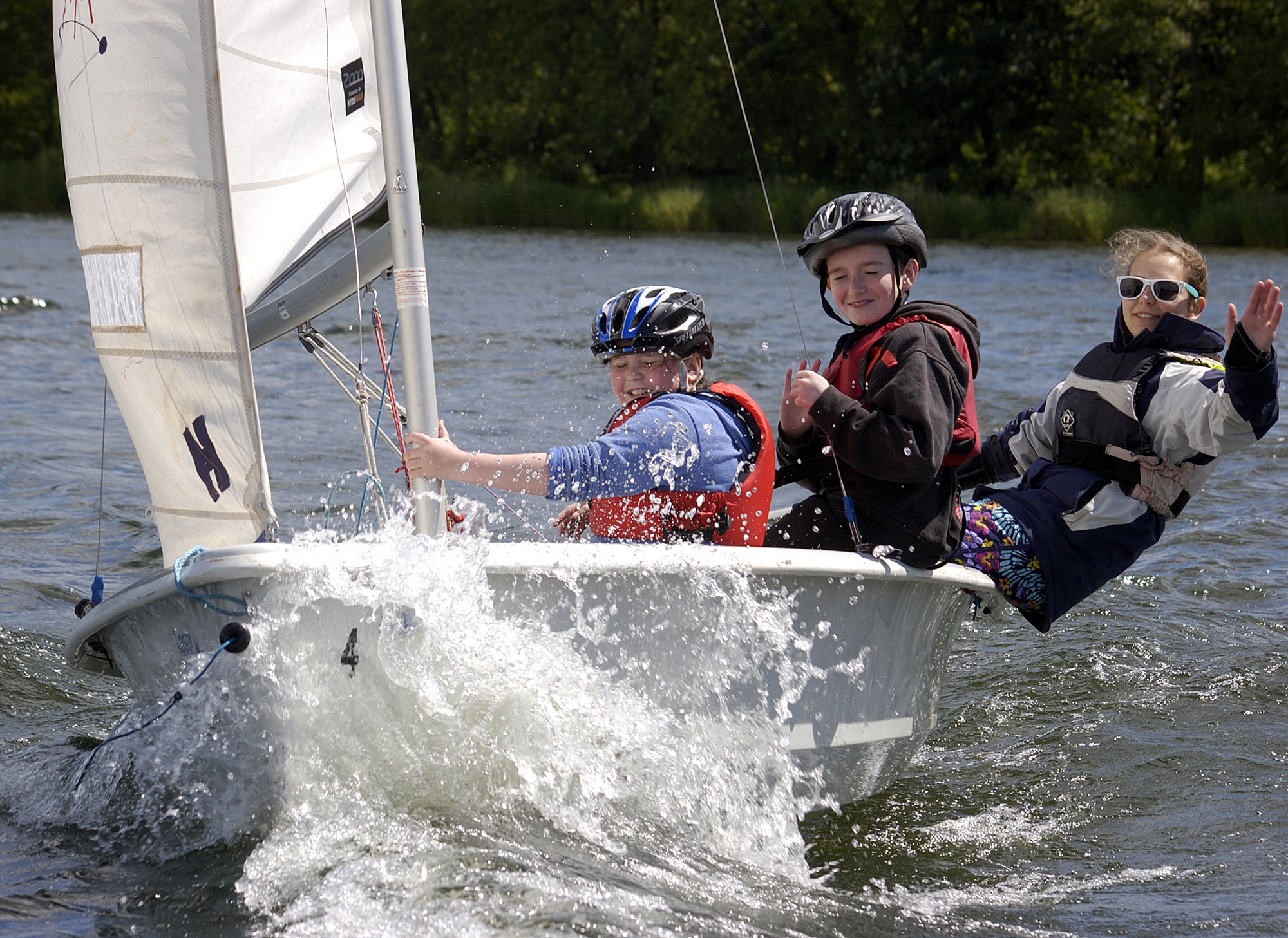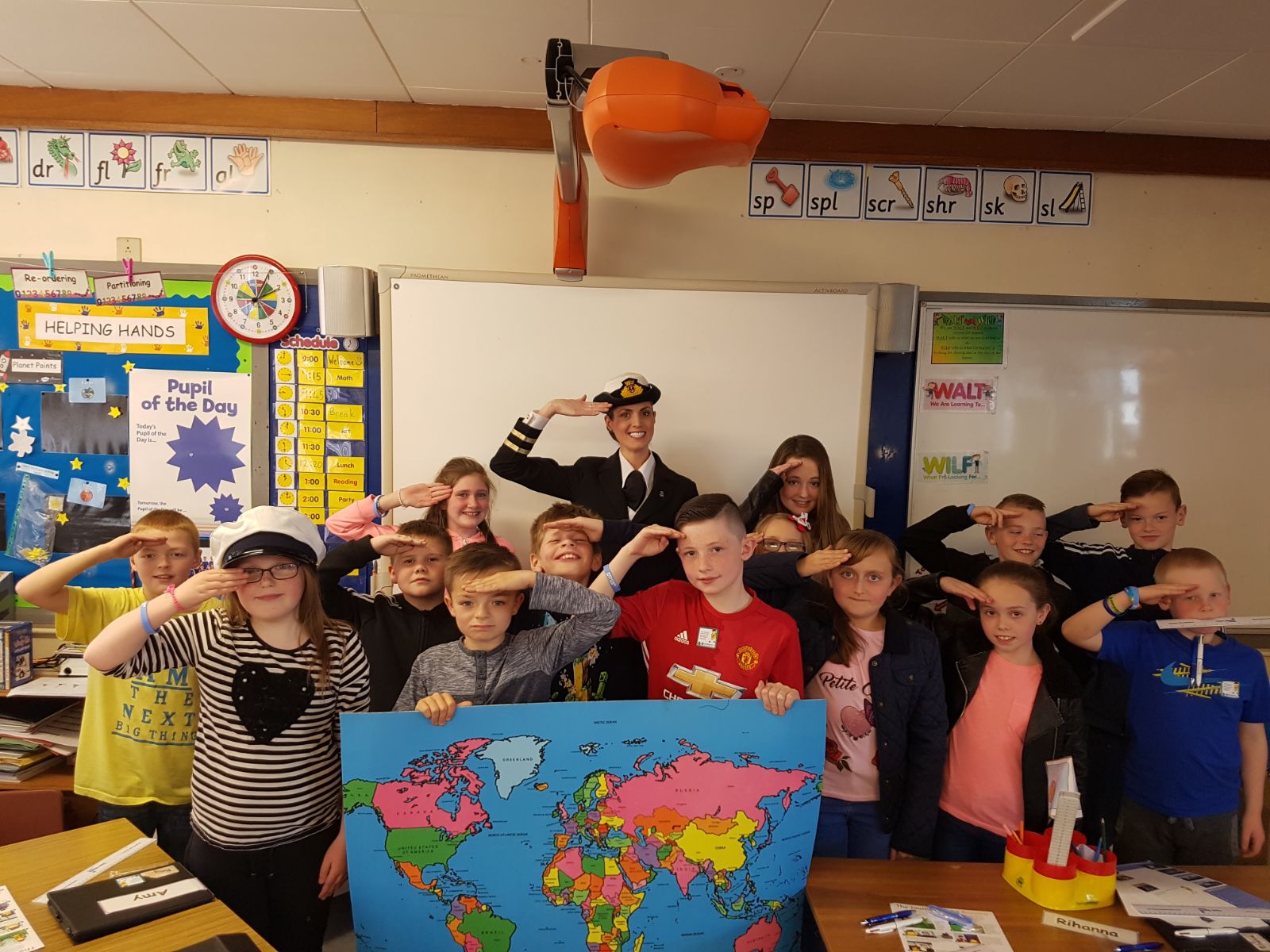 ---
Sea-Change Sailing Trust
East
"Blue Mermaid has gone to sea for the very first time for her shakedown sail. This is the culmination of a number of years' fundraising and building, thanks in no small part to Trinity House. She will now shortly be entering service with the charity.
Individual members of youth groups who sail with us who show merit or enthusiasm are welcome to return independently and join our Youth Sailing Scheme. Here they embed the experiences of living and working aboard from their first visit and start to undertake traditional seamanship training. With Blue Mermaid we are now in a position to build further on this and offer accredited training to those considering maritime careers. Again we are grateful to Trinity House for their support in enabling us to grow in this way."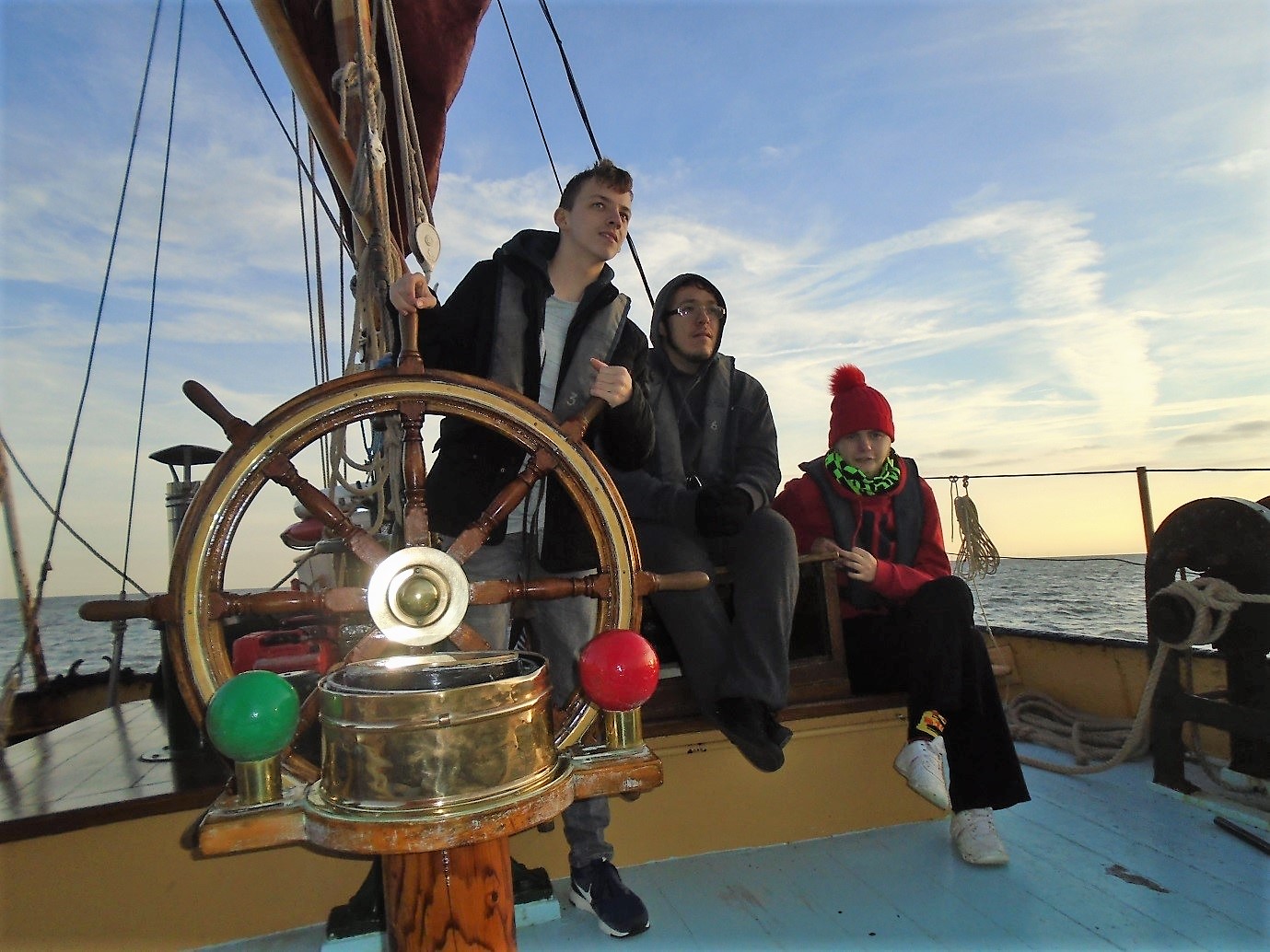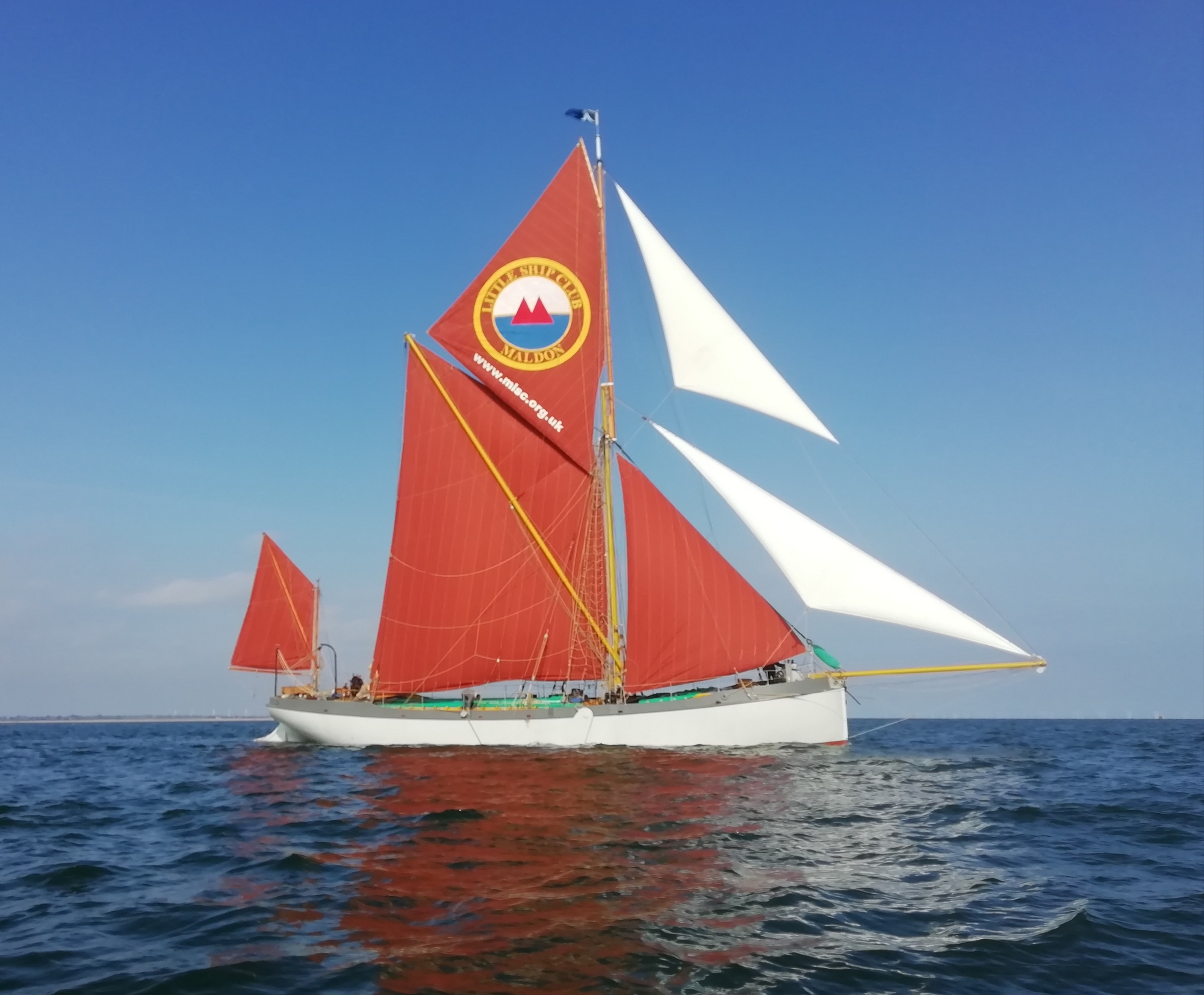 ---
Steamship Freshspring Society
West
"The valuable support of Trinity House has enabled us to considerably expand the work we do with schools, particularly on board the ship, with new creative activities linked to engineering and maritime. We now have a much better level of interpretation material, projection equipment a better presented wheelhouse for use as a classroom. For winter months we have been able to install electric lighting which operates from wind and solar power. This adds considerably to our ability to educate young people in renewable energy."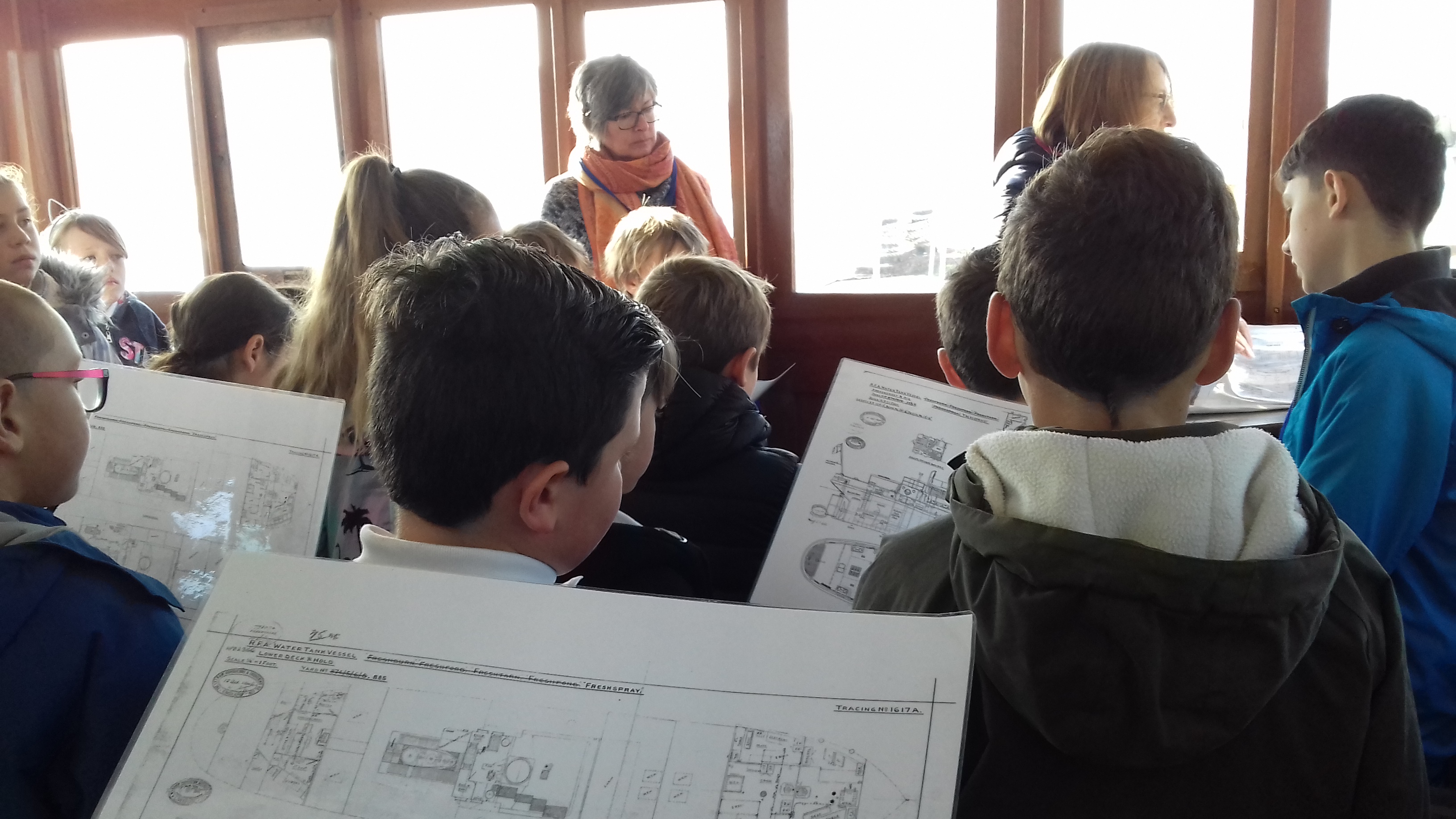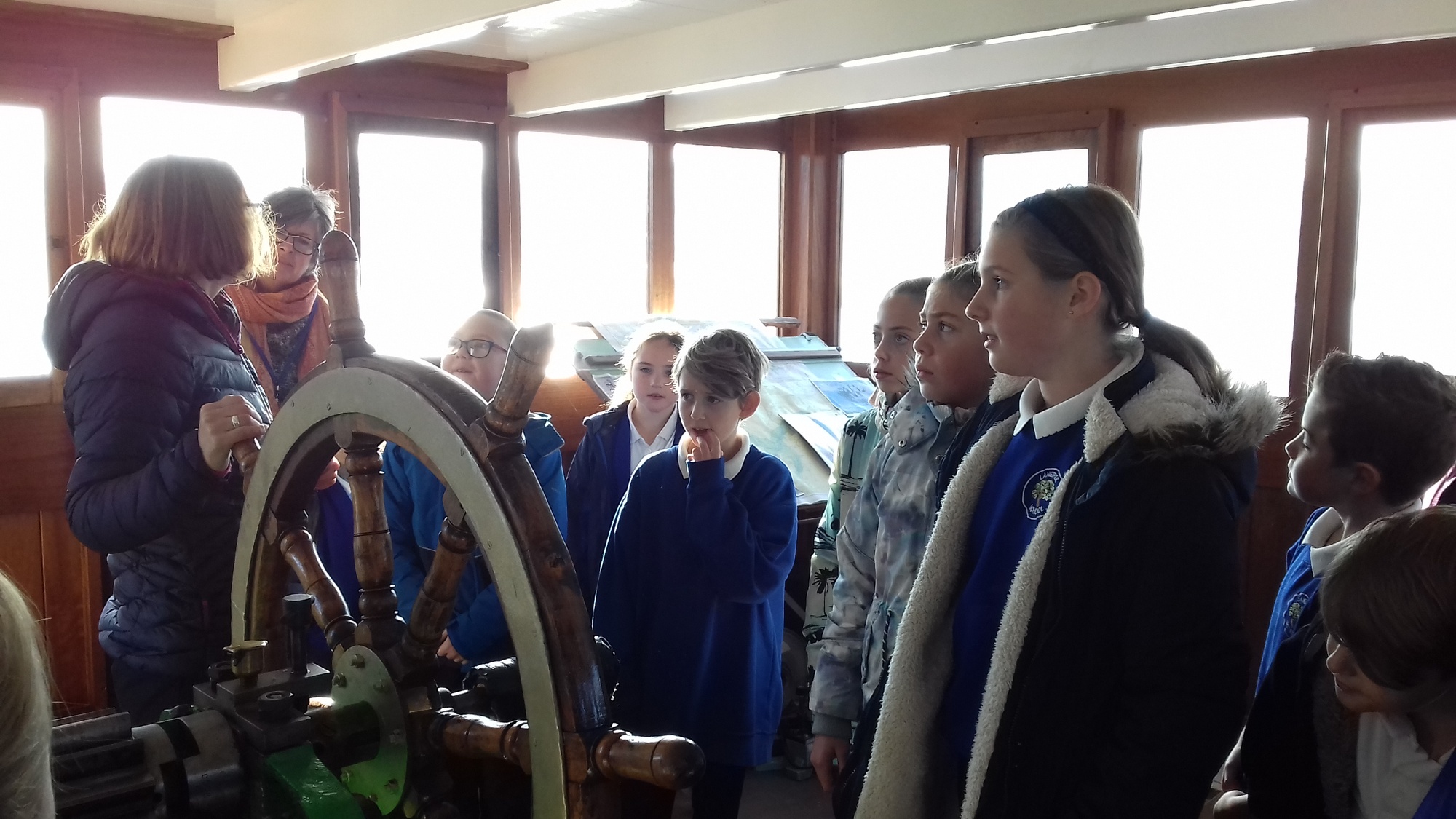 ---

Mission to Seafarers
West
Trinity House is supporting cutting-edge technology, which is being used to provide Wi-Fi for seafarers when in remote and difficult to reach ports. South Wales Port Chaplain for the Mission to Seafarers Mark Lawson-Jones and his colleague Dunkerque Chaplain Philip Edell have finished testing several different set ups that are being used in Wales and France.
The picture shows the original 'test rig', with an 'off-the-grid' power supply with several modems and routers. The final device will be compact and able to run from a battery for up to a week without being recharged.
"Getting mains power to the units in some remote places has been a challenge, so we hit on the idea of bringing our own power. This means that if there is a mobile signal, then that's all we need" said Rev. Lawson-Jones, "We have managed to transmit a good, fast signal several hundred metres to the mess of a ship, where the crew could watch live video and call home with Skype."
The chaplains expect that up to 15 crew can connect to a device at once, using the freely-provided data to contact loved ones, even when they are miles from towns and cities. The Rev. Edell said "There is no question that good mental health is dependent on being able to contact loved ones regularly, so seafarers don't feel so cut-off from family life. Seafaring is a dangerous and difficult job, and this technology gives us the chance to make things a little easier when they have some quiet time".
The Rev. Lawson-Jones said "We are extremely grateful for the Trinity House grant, which has given us the opportunity to make freely available, portable and stable Wi-Fi a reality for many seafarers who visit the South Wales ports."